CHN Banquet is February 27th – Knoxville, TN
If you are planning on attending the banquet and haven't sent in your RSVP, please do so as soon as possible!
Crowne Plaza Knoxville – 6PM

Silent Auction and Dinner

Comedian – Karen Mills
CHN Mission Trip – September 7-10 Vietnam 
The team will tentatively leave September 4 and return the following Sunday, September 13. More information coming soon!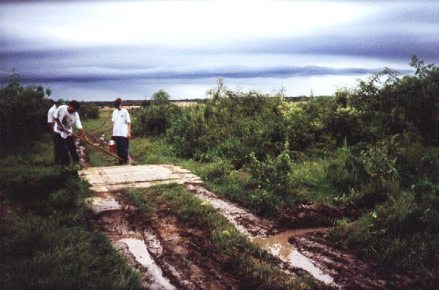 FLEITAS FAMILY: PARAGUAY
1997: God said, "Go build your home down in the swamp!"  We did, but why? "I want you to make something beautiful out of something ugly."   That started with making a road, digging ditches, building a bridge, clearing scrub, and planting trees. 
Then, as we slowly did that, we saw the "why". People started coming to live alongside us, down the road, and all around us.  "Now what?" we asked, as we tried working with the adults – drunks, thieves, prostitutes, medicine healers, etc. Most were set in their ways of idolatry,
superstition, fear, illiteracy, oppression and violence. Then God clearly showed us that the way to help effectively was to start with their children – the future generation – to train and teach them in godly principles, help them learn to read, write and understand, treat them with dignity, love them, and give them the possibility of a future different to their parents. 
We needed a PLACE where we could do that.  Miraculously God provided us with the funds to build a multi-educational centre, on a large section next to our home.  This was completed in 2006.
So for the past fourteen years, we have been running literacy and development classes, kids and teen clubs, day camps, discipleship Bible studies and other activities.  Hundreds of kids and teens have been a part of this, mostly from very poor, disadvantaged backgrounds and dysfunctional families. The environment is what makes the difference – the love of Jesus shining through the lives of the leaders, along with fair discipline, biblical values, learning new skills and games, all with the aim to bring them to a life-changing faith in God. 
Over time we have seen positive changes in many of the students and club kids, and parents attest to the changes at home, which is encouraging for us.  Many of the teenagers we have worked with are now believers, have been baptized and attend local churches. Some have gone on to study at a Bible seminary, and others to work in a Christian orphanage.   So, yes, we are seeing the Spirit of God turn the "ugly" into "beautiful" in a part of the world that is very dark spiritually.
About us: Francisco grew up in Asuncion, the capital city of Paraguay, became a believer at the age of 17, and as a young man was directed by God to work with children in a Christian school in the interior.  I (Joanna) came from New Zealand to Paraguay to teach English as a second language as a result of a very clear call from God as a teenager. We met in 1993 and after various confirmations that it was the Lord's will, we were married in 1995.  We have three children, Nicola (23), Melanie (19) and Benjamin (16).
Still Waters Ministries
This 60 year-old property is a 100 acre operating hay ranch; with a 7000 sq ft lodge for short stays; and a 2850 sq ft house for sabbatical stays; and includes outdoor recreation and farming.  The property is about an hour drive from any large town.
"Our ministry exists only to serve ministry leaders. It is our desire to help them stay healthy, to spend significant time with God, to be in a safe and confidential area, to hear what God wants to say to them, and … to be spoiled for a while," said Anita Wirick.
"We primarily concentrate on providing rest and renewal to ministry servants like pastors, missionaries and key Para ministry leaders, explained Wirick.  We are not a place to rent or a hotel to stay at for vacations; instead we are purposeful in asking our guests to unplug, to spend significant time in prayer, reflection and connection with God. We provide gourmet meals, outdoor activities and coaching during 7-10 day stays.
We offer activities such as on site archery range, shooting, day white water floats, fishing, and hiking. However… these are 'the breaks' during the longer periods of connection time to help balance life, not the purpose of the stay. Nearby are tours of dams, museums, wineries, and scenic drives in the Columbia Gorge,
The Wiricks enjoy spending time with the guests, sharing life together, encouraging each other, discovering what God might have in store for their lives.
Randy & Anita Wirick
112 Woodland Road, Goldendale, WA 98620
Don't Be Surprised
"To Thee, O Lord, I lift up my soul. O my God, in Thee I trust." Psalm 25:1-2
Sometimes we wonder why we are struggling. Some seem to think that if we obey God, He gives us a free pass from trials. It was not true for those who went before us and it is not true for us. It wasn't only David. Remember those men and women in the Bible whose stories were not pretty or perfect. They went through difficult trials, temptations and sin: Moses, Jonah, Samson, Rahab, Elijah, Peter, Paul and countless others until now. What is the lesson for us? The Lord knows his people, He knows us completely and He still loves and uses us. 
Our circumstances may be difficult, and we may not understand the reason for hard times, but we should still seek the Lord. It may be that we are the cause of our own negative situation. David was often his own worst enemy (as have we been on many occasions). It could be for reasons yet unknown. Regardless of how young or old we are, or what our circumstances are in life, we end up in struggles. David encourages us over and over in Psalm 25: "Make me know Thy ways; teach me thy paths; therefore He instructs sinners in the way; He teaches the humble His way; He will instruct him in the way he should choose; and He will make known His covenant." God is always and only a heart cry away. James 1:5-6 tells us, "But if any of you lacks wisdom, let him ask of God, who gives to all generously and without reproach, and it will be given to him." James reminds us to seek God and His wisdom in all our trials.
If David, who walked with God from his youth, was still facing trials in his later years, then none of us escape. 1 Peter 4:12-13 declares, "Dear friends, don't be surprised when the fiery ordeal comes among you to test you as if something unusual were happening to you. Instead, rejoice as you share in the sufferings of Christ, so that you may also rejoice with great joy when His glory is revealed."
So don't be surprised, but rejoice! You are His.
©Valerie May